Aria Pro 2 Serial Numbers
I have seen both 6 and 7 digit serial numbers (excluding the letter if it is present).This new serialization covered Aria, Aria Pro II, Vantage, Westbury, most Westones, Japanese Washburns, some Electras, and the Skylark as well as others. The first digit (and upon rare occasion the first two) indicated the year.
Sunburst, dual humbuckers, solid back and top, nice set neck (3-piece, no scarf joint) There is no country of manufactuing on the guitar, PO indicated it was a late 1980s, early 90's date. Serial number is S020512265. I have been to the commonly referenced serial dating page for Arias with no firm answer.
At least for Aria guitars, made by Matsumoku, the serial number contains the year of manufacture in the first 2 digits, thus a guitar from 1979 would have a serial number, such as 79####. Aria Guitar Serial Number Search. The manufacturing of Aria guitars were subcontracted out to Matsumoku from 1964 to 1986.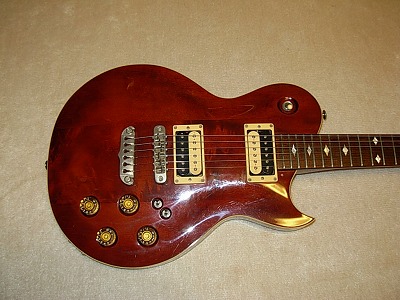 Aria Pro 2 Bass Serial Numbers
| | | | | |
| --- | --- | --- | --- | --- |
| Code | Model | MFG/Description | Condition | Price in US$ |
| 80020381 | MK-1800WA | ARIA PRO-II Mocking Bird Walnut 1980 made | Mint | USD 1300.00+ |
| 80020404 | PE-R80(T) | ARIA PRO-II PE RED Original | Fair | Sold |
| 80020432 | MA-550BL | ARIA PRO-II Magna Black | Mint | Sold |
| 80020494 | MK-1600N | ARIA PRO-II Mocking Bird Maple 1980 made | ASK | Sold |
| 80020659 | ST-500YSB | ARIA PRO-II Strat 1980 made Matsumoku | Mint | Sold |
| 80020695 | PE-800 | ARIA PRO-II PE Violin 70's made original | Mint | Sold |
| 80020705 | TV | ARIA Diamond Les Paul TV model | Mint- | Sold |
| 80020788 | PE-R60 | ARIA PRO-II PE RED Early 80's made I111xxx | Mint | Sold |
| 80021184 | RS-600WA | ARIA PRO-II PE RS 1981 Made | Mint | Sold |
| 80000190 | ST-500YSB | ARIA PRO-II Strat Sunburst RFB | Mint | Sold |
| 80000194 | PE-1200FR Limited | ARIA PRO-II PE Red 1982 made Limited model | Mint+ | Sold |
| 80000197 | TE-450N/M | ARIA PRO-II Telecaster 52 Model N/MFB | Mint+ | Sold |
| 80000264 | ST-500W/R | ARIA PRO-II Strat White RFB 1980 Matsumoku Made | Mint- | USD 437.00+ |
| 80000289 | ST-400? | ARIA PRO-II Strat Sunburst MFB 1979 Matsumoku | Mint | Sold |
| 80000304 | ST-500SB/M | ARIA PRO-II Strat Sunburst MFB 1977 Matsumoku | Mint+ | Sold |
| 80000305 | ST-500B/R | ARIA PRO-II Strat Black RFB 1979 Matsumoku Made | Mint- | Sold |
| 80000332 | ST-500W/R JB | ARIA PRO-II Strat White RFB 1979 Matsumoku JB | Mint- | USD 438.00+ |
| 80000371 | LS-500 | ARIA PRO-II LP STD Black 1980 made + Gotoh PUs | Fair | Sold |
| 80000373 | LC | ARIA PRO-II LP CTM 1980 Custom made | Mint- | Sold |
| 80000423 | ST-500W/R | ARIA PRO-II Strat White RFB 1980 Matsumoku | Mint- | Sold |
| 80000443 | TS-600N | ARIA PRO-II Original Though Neck 1980 made | Fair | Sold |
| 80000477 | ST-450W/R | ARIA PRO-II Strat White RFB 1978 Matsumoku | Mint- | Sold |
| 80000505 | ST-500SB/M | ARIA PRO-II Strat SB MFB 1977 Matsumoku | Mint- | Sold |
| 80000519 | TS-600WA | ARIA PRO-II Original Though Neck 1980 made | Mint | Sold |
| 80000535 | PE-600 | ARIA PRO-II PE Sunburst 70's made original | Mint+ | USD 698.00+ |
| 80000565 | ST-500L SB/M | ARIA PRO-II Strat Lefty SB MFB 1977 Matsumoku | Mint- | USD 488.00+ |
| 80000592 | CS-400 | ARIA PRO-II CS Wine Red early 80's made | Fair | Sold |
| 80000641 | TS-600N | ARIA PRO-II Original Though Neck 1980 made | Fair | Sold |
| 80020652 | MK-1800WA | ARIA PRO-II Mocking Bird Walnut 1980 made | Mint | Sold |
| 80020673 | TS-600N | ARIA PRO-II Original Though Neck 1980 made | Mint- | Sold |
| 80020698 | TS-600N | ARIA PRO-II Original Though Neck 80's made | Fair | Sold |
| 80000704 | TE-500N | ARIA PRO-II TL Thinline Model | Mint | Sold |
| 80000710 | LS-500 | ARIA PRO-II LP STD 1980 made | Mint- | Sold |
| 80000765 | ST-500 SB/M | ARIA PRO-II Strat YSB MFB 1977 Matsumoku | Mint- | USD 398.00+ |
| 80000769 | ST-500 SB/M | ARIA PRO-II Strat YSB MFB 1977 Matsumoku | Mint- | USD 388.00+ |
| 80000780 | ST-500 SB/M | ARIA PRO-II Strat YSB MFB 1976 Matsumoku | Fair | USD 358.00+ |